Valentine's Day is a perfect timing to show your affection to your loved one!
Of course, a unique gift is indispensable. As computer is a daily partner for every one of us, something like computer peripherals should be a good option this year, right?
Earth Trek's wireless mouse in pink must be a hot gift for girls! Streamlined outlook together with pink leather, guess no girl would resist such lovable gift!
Limited stock available @HK Design Gallery!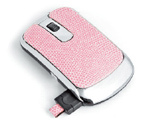 PDF File